Pastoral Care
Pastoral care at Mowden Hall is overseen by the Headmaster and his wife and supported by every member of staff who is involved with the child. Great attention is given to the details of each child's life, so that we have a full understanding of every individual, allowing us to care, support and nurture them in their journey through the School. The Headmaster and his wife meet regularly with the Deputy Head and Housemistress to ensure that all issues – however large or small – are well communicated between the boarding staff and the rest of the School. The Housemistress runs both Oak House for boys and Elm House for girls, and is the first point of contact for any boarding matters. She is supported by a team of Mateys, our School Nurse, GAP students and on site staff. There is regular contact between the School and parents on pastoral issues.
Our primary goal at Mowden Hall is to ensure that the children are happy. We aim to achieve this by providing a friendly, supportive and cheerful environment where children feel safe, secure and relaxed. This security allows them to grow in confidence whilst they discover and pursue their individual talents and abilities.
The traditional values of kindness, good manners, self-discipline, respect and consideration for others are central to life at Mowden Hall. The children regularly take part in assemblies and church services which, along with Form Tutor time and PSHEE and Wellbeing, help embed these important values in life. We believe these values are fundamental to a good, all-round education.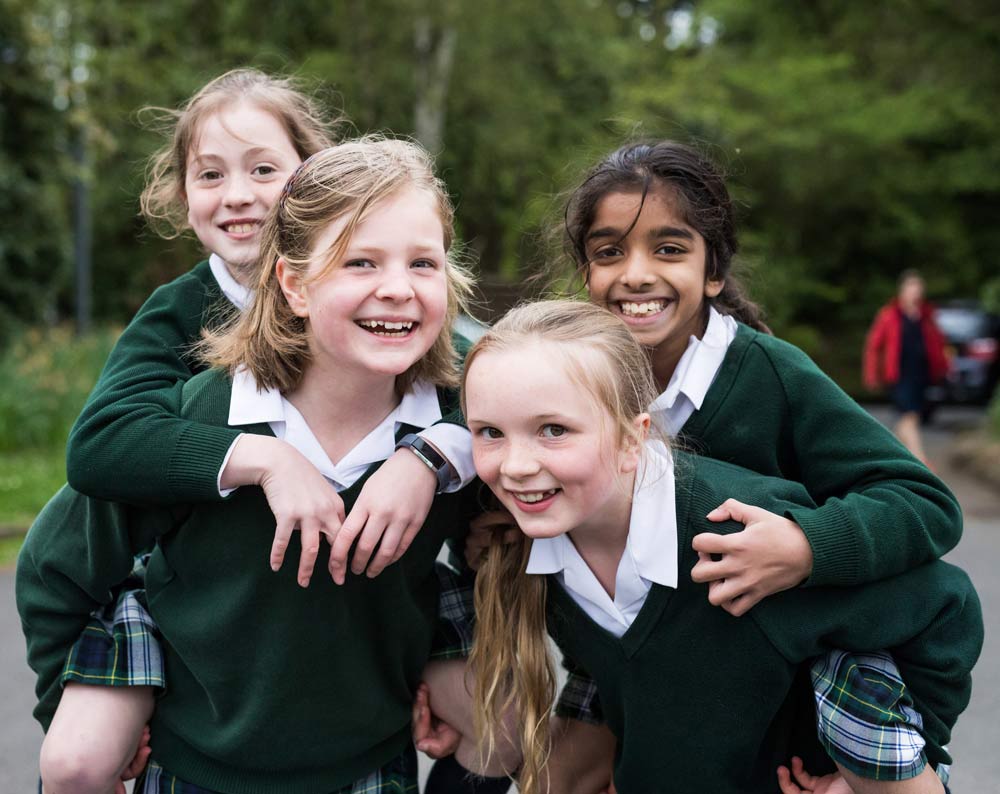 Form Tutor
The role of the Form Tutor is holistic, encompassing every part of the child's school life including academic, sport, extra-curricular and pastoral. Children meet with their Form and Form Tutor regularly. This is an opportunity to discuss any issues that may arise and to ensure consistent support throughout the year.
House System
There are four 'Houses', named after distinguished Northumbrians: Bewick, Collingwood, Grey and Stephenson. Each child is assigned a House on arrival in the Prep School, and throughout their time at the School they meet regularly with their House peers for social events and competitions. Each House has a pupil as a House Captain, and a member of staff as Head of House. The children and staff sit in their house groups for lunch each day. House Points are awarded in all areas of school life and count towards a termly house competition.
School Food
Great importance is placed on the quality and variety of school meals at Mowden Hall. A team of in-house caterers, managed by our own Head Chef, prepares and cooks fresh meals for the children on site. A healthy, balanced diet is achieved through carefully planned menus. The School eats as a community in house groups, and there is a formal end to every meal. Good manners are encouraged and expected of all children, and each house serves and waits on the other children on a rotational daily basis.
Options for breakfast include porridge, a variety of cereals, fresh fruit, natural yoghurt, and a selection of toast and fruit juice. This is accompanied by either a cooked or continental breakfast. For lunch, there is both a meat and vegetarian hot option served with a selection of fresh vegetables, along with a comprehensive salad bar (from Year 3 upwards), accompanied by soup in the Winter. A hot or cold pudding and fresh fruit follows. Children have a mid-morning and afternoon snack, with fruit and milk or water. The snacks vary from sandwiches, toasted fruit buns and breadsticks to flapjacks and crumpets, all ensuring the children can sustain their energy levels until the end of the day. Supper provides both a hot meat and vegetarian option which are accompanied by fresh vegetables and a selection of salads and bread rolls. A cold pudding, cheese and biscuits or fresh fruit follows.
The School aims to be 'nut and seed free' and we ask parents to adhere to this policy by not sending in any products containing nuts and seeds.
Church
We are fortunate enough to own St James' Church in the village of Newton. On most Tuesday mornings, the whole of the Prep School will walk to church for a short service which will be led by the Headmaster. This important moment in a busy week gives the children and staff the chance to quietly reflect. Hymns are accompanied by a school band, the Choir will perform an anthem and others will introduce and close the service with the pealing of our newly installed church bells.