Year 8 Creative Writing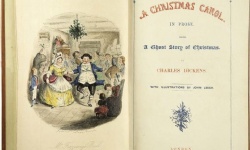 Please enjoy some of our Year 8 children's descriptions of memorable meals, with a focus on sensory impressions, inspired by their study of novels, by Charles Dickens.
A Memorable Meal
Sizzling and spitting could be heard as the rich batter met the hissing pan, bathed in butter. Within seconds, the mixture darkened and bubbled. I stared in wonder at the marvellous concoction being flung into the air. It danced and twirled above the oven before my eyes followed it back down into the pan. Splat!
The flowing syrup dressed the pancake in a perfect design whilst nature's berries cascaded over the mountain of pancakes that were already stacked on my plate. The syrup spoke of silky warmth and filled me with joyful memories. The textures and tastes were like no other, simple but full of impact, offering a magical tingling sensation.
`
Clover, Year 8
A Memorable Meal
Pain au chocolat: its crisp exterior, flaky and glossy, shone as if it was sent from God himself. The smell of buttery croissant dough filled me with warmth. It made me rise off the ground and float into the land of pastries.
Warm and doughy on the inside, it was filled with bitter but nectarous dark chocolate. The heavenly liquid coated my taste buds and I couldn't help but take a second, more generous bite: a tsunami of flavours flowed through my mouth and once again I craved its hidden chocolate core.
Next, I tucked into some beautifully buttered toast. It crunched under my teeth, The butter was creamy and slightly salted.. I sweetened the taste with a juicy red grape and finally, I washed it down with a glass of zesty, freshly-squeezed orange juice.
This breakfast was enjoyed in the South East of France. The majestic Alps stretched out on either side. Jagged, snow-capped mountains mirrored the rough surface of my toast as I finished my memorable breakfast and readied myself for the slopes.
Phillip, Year 8
A Memorable Meal - Strawberries
When I glance down at the sugar-dipped strawberries, piled generously in a glamorous bowI, I can't wait to take a bite of their saccharine glory. The light bounces off the cut-glass bowl, drawing my attention to the succulent fruit and I drool in delight. Powder-white sugar is sprinkled over the strawberries like a dusting of fresh snow. The sugar crystals make my eyes glimmer as they melt into the strawberries, making them syrupy and sweet; exquisite and elegant.
As soon as I take a bite my mouth waters; softens. They are ripe and rich and as red as roses. They remind me of miniature love hearts, symbols of love. The aftertaste is treacle.
Sophie, Year 8