Year 7 Boarders' Weekend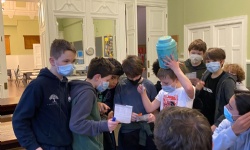 On the weekend our Year 7 boarders held out in "The Darkness", our Mowden twist on Hide and Seek only it's... in the dark! It is always so impressive to (not be able to) find the imaginative places our children can hide! We had some hilarious moments scaring each other by jumping out. I think the record was held by Lorca for scaring Mr Bonicci so many times!
On Sunday we all went to Laser Quest in Sunderland. The team games appear to have been the favourite but general consensus was that it was all great fun. On Sunday afternoon (after the most wonderful roast dinner) we played Clue'd in. A real life variation on the traditional board game Cluedo. Children ran around school finding clues that had been hidden, trading off answers, and bargaining with play cards to try and work out "whodunnit"
Miss Serbrock, Head of Boarding
For more photos of the event, please click below.