Year 5 - Art, English and Drama Trip to York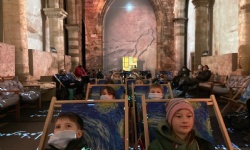 Year 5 had a fantastic trip to York over the first weekend back to school this term. The trip was designed to support and inspire the children towards their collaborative Art, English and Drama project, and it was a huge success. We set off in good time on Friday morning and caught the train down to York. The pupils visited York St Mary's to see Van Gogh's Immersive Light Exhibition and experience the VR set. They then went on to have fish and chips and ate them on the steps of the Minster in the sunshine.
The afternoon was then taken up with preparations for their Year 5 play in Dean Park, where they sketched, took notes, listened to the plot of their potential play and enjoyed role-playing together. Mrs. Belshaw took groups out to make the necessary pit stops to the sweetie shop in between!
We then walked to the York Youth Hostel to have dinner, looking at the architecture en route and then headed back into York city centre for a fabulous Ghost Walk (which was toned down especially for the audience!). The hot chocolate was devoured on return to the hostel before pupils were tucked up exhausted in bed.
On Saturday, we visited the spectacular York Minster to gain further research and inspiration and then caught the train home. It was the first residential Art, English and Drama trip to run, and it was enjoyed by all the children and staff that we would love to do it all again next year!
For more photos of the visit please see below.