Year 3 & 4 Boarders' Weekend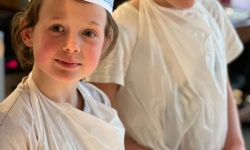 We had a wonderful sunny Saturday afternoon with the Year 3 and 4 boarders who stayed at school. We were able to enjoy some playtime on the grounds with the lovely weather before heading off to Pizza Express for our pizza making party. We were all given a chef's hat and an apron (thank goodness!) and the expert chef, dressed in his very smart chef's attire showed us step by step how to make a pizza.
We kneaded and spun our dough ourselves and then pressed it all carefully into our pizza trays where we poured on lots of flavour packed tomatoey-based sauce before loading them up with delicious toppings. Some of us piled lots on, some put them on in patterns and other people just put a little bit on! Something for everyone!
We all sat down to enjoy some dough balls while our pizzas were cooking. They were so yummy! We all ate lots and lots but, of course, found a little extra room for some brownies and ice cream! What a treat!
Back at school, we ran off some energy (and food!) and then got ready for bed with hot chocolate and a film. It was a great day, and we all fell asleep with full tummies and dreamy smiles.
For more photos of the weekend please click below.
Miss Serbrock, Head of Boarding