Year 3 and 4 Assembly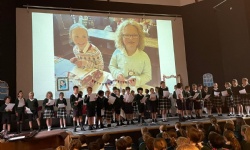 Last week Year 3 and 4 gave an assembly to the whole school.
Year 3 and 4 reflected over the academic year, looking at their best achievements, favourite memories, times they had been pushed out of their comfort zone and people in school who had inspired them. Here are just a few examples of what they came up with.
Biggest achievements -
My reading age has improved by 29 months.
Being invited to play in the Concert Band, I was really nervous at first, but now I really enjoy it.
Starting to board and sleeping over with my friends.
My main achievement this year was learning all my lines for the Years 3 and 4 play. I was part of the chorus, so there were lots of lines, and we also had to learn to say our lines altogether.
Favourite memory -
Boarding weekend to Walby Farm Park, there were lots of different slides and I gave them all a name.
The house activities: house BBQs with the doughnuts on a string, house cricket and football, tug of war, and the house singing competition.
My favourite memory this year was the Christmas ball because it was fun and exciting. The best part was the disco.
The trip to Hawkhirst because there were loads of different activities. There was climbing and crate stacking, and we went across the lake in a boat to an island with a huge statue on it.
Out of comfort zone -
I was pushed out of my comfort zone when I played god save the queen in the music workshop. It was very tricky and I practised lots with Mr Fowlds.
I was pushed out of my comfort zone when I had to learn all my hard grade 2 Lamda pieces. I had my exam this week and I feel it went well.
People who inspired us in school -
Mr Hartley has inspired me to learn more about technology, one day I want to be as good as Mr Hartley.
Mr Shaw-Kew has inspired me with cricket because he is enthusiastic and has helped me improve my batting.
Harry Johnson has inspired me with football. He has shown me how to do keep-me-uppies and rainbow flicks.
Mrs Kay has inspired me with gardening. I have grown spinach, marigolds, sweet peas and some strawberries are trying to grow.