Wreath Making Workshop 2019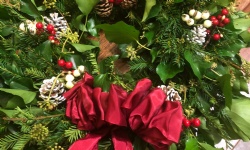 Feeling Festive at Mowden Hall School.
Parents and Staff were welcomed to the festive aroma of mulled wine and warm mince pies for the popular wreath making workshop on Thursday, 28th December. Our wreath making sessions have been growing in popularity since they began 3 years a go. It was wonderful to see the array of amazing wreaths.