World Book Day in the Pre-Prep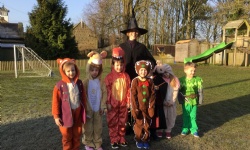 Pre-Prep has enjoyed a whirlwind of activities this week and all in the name of a good story. The doors opened on Monday to a stream of 'stories in a box'; the teachers were amazed at the time, thought and creativity that had gone into these. Many parents commented that their child had been enthusiastically working on their story box for days leading up to it.
We were all thrilled at how much the children and families enjoyed the 'book cafe' and many went home with a list of books that they had tasted, enjoyed, and would like more of. Enabling children to engage in quality texts is one of our priorities and it was fantastic to see them so gripped by books. Guessing the 'mystery reader' of the day added a buzz of excitement to the whole week with the corridors peppered with adults dressed up in character or hiding under a cloak ready to present the much-anticipated story to the children. The excitement culminated on Thursday, which was dressing up day, and you could be forgiven for thinking the children had gone home and in their place was a myriad of story characters. Stories have been read, shared, re-enacted, and talked about all week and we hope this enthusiasm will continue to grow and flourish.