U12 Stand Up Paddle Board Competition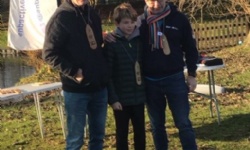 Joey Little in Year 7, competed in the Northern SUP Winter Race series in the U12 foot category - that's the length of the board not competitors heights! The race took place on Ellerton Lake on a crystal clear sunny winter's morning on 1st December. His race was over 3km against 15 other paddlers, all of whom were adults. His sprint start gained him a comfortable lead heading into the first corner and from then on he slowly pulled away from the rest of the field, finishing first by a comfortable margin. Currently Joey is leading the race series for this category and upon his return from Sauveterre in March he will be back in time for the final race of the Winter series!
Congratulations Joey! Amazing achievement.