The Galaxy and Beyond - Boarders' Event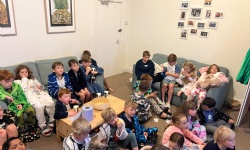 The Year 3 and 4 boarders had an extraordinary evening filled with cosmic delights! The festivities kicked off with engaging games, such as 'Keeping up the Asteroid.' In this exciting challenge, children skillfully kept coloured balloons afloat. When the music paused, they eagerly chose one to 'pop,' uncovering a fun challenge inside. Another thrilling game was 'Martian Rock Scramble,' where our young astronauts collected 'moon rocks' in a race against a 'Martian' guard. If tagged, they made a quick retreat to their 'space shuttle' before making another daring attempt. To add a creative touch, the children crafted and piloted their own rockets through 'Saturn's rings.'
Dinner was a celestial feast, set in the depths of space. The youngsters relished 'alien' sliders and 'flying saucer' cupcakes. The innovative galaxy juice concocted by our exceptional catering team was a big hit.
Following supper, the evening continued with a lively disco and outdoor play before winding down with milk and a space-themed movie. After some peaceful reading and bedtime conversations, the children settled in for a night's rest, eagerly anticipating their upcoming 'Space Golf' adventure.
For more captivating snapshots of the event, please check out our Instagram page.