The Boarders Weekend! Lip Sync Battle and Clip and Climb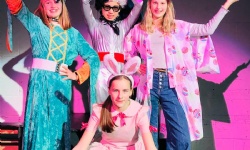 The Boarders had a busy weekend!
On Saturday the children entered into the annual MH Lip Sync Battle. Based on the pop culture phenomenon of lip-sync battling, the contest featured individuals and groups going head to head, syncing their hearts out in hysterically epic performances.
We were all entertained the entire night with epic Lip Sync performances that had us all dancing, laughing, and crying!
On Sunday the Boarders ventured in to Newcastle's Clip and Climb.