The Boarders' Festive Weekend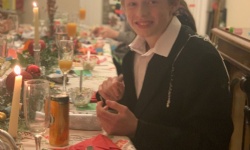 Finishing the Term off in a festive frenzy!!!
A Christmas themed Lip Sync Battle included a staff rendition of "Stop the Cavalry", followed by teams of children lip syncing to "Santa Tell Me", "Rockin' Around the Christmas Tree", and "I wish it could be Christmas every day" - all the groups made a spectacular effort. The Gaps had strict judging criteria, and crowned Harry, Ted, Connie, Thomas and Margot for "Rockin' Around the Christmas Tree" as the Lip Sync victors.
Most of Sunday was spent preparing for an epic Christmas Dinner. The Boarders were assigned festive tasks, such as, making place name cards, setting the table, producing a table plan, creating a Christmas Quiz and they even tried out napkin art!
What a reward! Sitting down together to enjoy a festive feast in their finest clothes. What party would be complete without crackers, party confetti cannons, poppers, jokes, and hats?
For photos of the weekend, please click below.