Staff Spotlight - Mr. Hadfield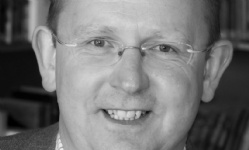 My name is James Hadfield, and I have taught at Mowden for the last 8 years. I have enjoyed various roles in this time, ranging from U11As sports coach, History teacher, Director of Studies, Boarding House Assistant and, latterly, Deputy Head.
My career path is not perhaps the most typical. Brought up from working-class roots in West Cumbria, I was born in Workington, I had absolutely no idea that I would one day end up in the independent education sector. Indeed, as a child I had no idea schools like this even existed. I was brought up by a working single mother and we generally struggled to make ends meet. I was educated within the state sector and I can all too easily compare, on a very personal level, the difference in provision between the two sectors. I only wish everyone had this perspective.
Indeed, once the moment came, I was the first member of my family to go to university. I found my love of History at Aberystwyth, University of Wales, and spent many hours in the long halls of the National Library there researching for my History degree. My specialist areas were definitely more modern, and if I had to pick, I'd suggest that modern European revolutionary history, especially that of Russia, is perhaps my most fascinating topic to consider.
Upon graduation, I spent some years in retail management and at one point worked managing a store for my childhood football team: Manchester United. However, the life of a store manager was not for me and I decided to go into teaching via a PGCE. I trained in Wales, and spent time teaching History in secondary schools in Builth Wells and Denbigh. After completing the degree, I found a job in a small family run boarding school in the middle of rural Worcestershire: Kinlet Hall. The school has sadly now closed but it was an excellent grounding in what a truly holistic education was all about. I taught English, History, Geography, Art, all sports and could even be found mucking out in the stable block. I also met my wife at Kinlet, which was a stroke of luck! We were married in the summer of 2000.
After marrying Mrs Hadfield, we left to teach in Surrey. This time we were in a highly selective girls day school, which was far removed from my previous experience. However, it was an insight and was Head of Humanities, managing the delivery of History, Geography and Religious Education.
After Surrey, and laterly Hampshire, we moved schools to the West Country and spent 12 years at Hazlegrove School. Working firstly as a dedicated Head of History and Games teacher, I soon found myself in the additional roles of Director of Studies and House Parent in a 50 strong girls' boarding house. We took over the boarding house with just under 20 girls and doubled it within 2 years, overseeing building works needed to house the additional pupils. This was a return to the holistic style of education I am so passionate about. I was determined that my next school would be in a similar mould. Serendipity played a part at this point, as some co-workers at Hazlegrove once taught at a place called Mowden Hall and often talked fondly of their time there, and it sounded like my kind of school. So, when the post of Director of Studies came up I jumped at the opportunity and the rest is history.
Mowden is a passion of mine - it is a very special school. My sense of perspective tells me this. It is a preparatory school of the highest caliber - the breadth of opportunity and excellence it offers are first class. However, it offers this excellence from a very genuine, grounded and understated standpoint. Everyone at the school works exceptionally hard, and there is something to be said for sharing a vision and then working towards it within a committed group; as this is when the 'magic' happens.