Staff Spotlight - Meet Mrs Scott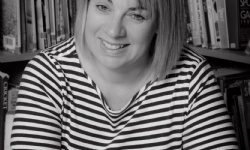 My name is Jane Scott, I feel very privileged to be the Head of Science at Mowden and have thoroughly enjoyed working here for five years now. I have been teaching for 29 years altogether and have experienced a wide range of different schools during my career. My teaching experience began in a Gateshead state school where I spent 10 years as a secondary Biology teacher. From there I moved into the independent sector to Westfield School, teaching Biology and Science. I then moved on to Central Newcastle High School which later merged with Church High to become Newcastle High School for Girls, where I taught Biology from Year 7 to Year 13.
I studied for my Honours degree in Biological Sciences at Napier University in Edinburgh and carried out my Honours project at Valenciennes University in France, studying the effect of vibration on the visual workload of Seaking helicopter aircrew men. The benefit of this study was that I was able to fly in a Naval Seaking and collect data with the reciprocal arrangement of being the civilian to practise winching up and down out of the helicopter! I was much braver in those days!
Following this I did a PGCE in Secondary Biology and Science at Moray House, Heriot Watt University, Edinburgh. My teaching practices were quite diverse, starting at Boroughmuir High School - which Sean Connery attended, Trinity Academy and finally Craigroyston High School close to where 'Trainspotting' was filmed.
I have lived on site for two years now with my husband and son. My daughter, now 22 and has already flown the nest. We feel very lucky to be living in such beautiful surroundings and driving home up the leafy drive is such a great feeling.
I teach Science at Mowden from Year 6 to Year 8. Having come from a secondary background, I am very impressed at the high standard Common Entrance demands. It is a fantastic preparation for GCSE and a very interesting, balanced curriculum. I love practical Science lessons and enjoy taking the children on fantastic STEM days where they do amazing activities such as programming robots, making water powered rockets or visiting hydrogen powered homes, to name just a few. I am also passionate about our eco- gardening club and doing more to encourage the children to live more sustainably, increasing biodiversity and reducing our impact on the planet.
Outside of school hours I love meeting up with friends and family and after going to the Tiree Music Festival one year, I have developed a passion for Scottish trad music. I try to go to as many concerts and festivals as I can.
Mrs Jane Scott, Head of Science