Staff Spotlight - Meet Mrs Knight, Head of Pre-Prep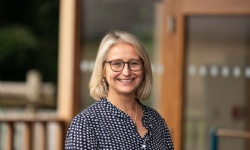 Eighteen years ago the Knight family, Simon, Kirsten, Hector and Flora, moved from Northamptonshire to Northumberland. We had visited this beautiful county several times on wonderful holidays and wished to bring up our, then young, family in a less populated place with quick access to the coast, countryside and city. The call of the 'land with big skies' was too much and when a maternity cover teaching job was advertised at Mowden Hall I quickly sent off my application.
Nervously travelling 250 miles to my interview was too much for our old car and having arrived early to prepare calmly I ended up breaking down in Corbridge! I rang the breakdown services in a fearful panic, only to be reassured by a wonderfully caring mechanic that he would get me to my interview on time! After a quick change into smart clothes in the back of the car, I arrived at the front entrance to the school in a huge breakdown truck with flashing lights towing my car. The driver asked if I wanted to get out and walk as he didn't want me to be embarrassed by my new mode of transport. " Let's just go up the drive a little pet and see how long it is!" How grateful am I that we did investigate as I had no idea how far it was to the school! He quickly dropped me off and I arrived, slightly ruffled, to be warmly greeted by Penny Kay who, as you would expect, immediately made me feel completely at home and soothed any nerves I was feeling. After the interview, I was asked where I had parked and had to admit my dramatic entrance. However, the breakdown company had thought of that and around the corner came a taxi to pick me up, I knew then the North was for me!
I loved the school, was impressed by its aims and ethos and knew I would relish the opportunity to work there. Eventually, I made the long journey home, hardly daring to tell my family what a beautiful and happy place the school was and crossed every finger. How delighted I was to accept the job the very next day and started excitedly to plan our 'big move!'
Not once have we regretted moving up North, it is so true that people have more time for each other; everyone talks and is interested in you.
Fortunately for me the teacher I was covering moved to Ireland and I was offered a full-time job teaching Year 2 in Pre Prep. I was soon promoted to Pre-Prep Deputy Head and then was offered the opportunity to join the SMT and lead Year 4 and 5 in the Prep school. I thoroughly enjoyed becoming more involved in boarding life and working with older children and my family and I were lucky enough to move onto the beautiful site to live.
I was then offered the exciting opportunity to re-join the Pre-Prep as Head and to oversee the design and building of a new classroom extension.
Outside of school, I enjoy walking our two black Labradors, meeting up with friends, visiting the cinema, concerts and theatre trips, open-air swimming and hopefully in the future much more travelling.
Working in the Pre Prep, no two days are the same. Keeping up with young children's ever-changing interests and curiosity provides endless opportunities to learn new things alongside them. The number of times a day I laugh with the children or am touched by their honesty or innocence, makes me feel very privileged and appreciated. Nothing has ever been more fulfilling to me than when a child masters reading or solves a problem and one can witness their confidence growing in front of your eyes. My well-being is constantly being boosted by a child wanting a hug, or telling me I have nice shoes, and giving me a huge smile.
I am privileged to work with such a dedicated staff team, with so many supportive families and such wonderful children, I appreciate how lucky I am each day!
Mrs Knight, Head of Pre-Prep and Year 2 Teacher