Staff Spotlight - Meet Mrs Henry, Head of Maths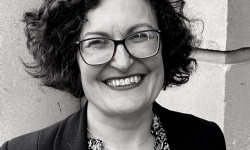 I was extremely happy and proud when I successfully gained the position of Head of Maths at Mowden Hall School. not only because I love numbers and teaching maths but also because Mowden Hall is such a lovely school. This is my first job within the Independent Sector having worked in the state system beforehand and been at an all-through school so I have taught pupils from year 5 all the way through to GCSE. I think this in-depth knowledge of the mathematical journey the pupils are on is essential, interjected with having fun while we learn.
Teaching is my second career having previously worked in a variety of roles within Local Authorities. Before I was a teacher, I worked in Market Research for many years. This started with opinion polls and then I moved into the Public Sector and worked on resident and staff surveys overseeing residents' panels and customer satisfaction data to inform service development. I was promoted and oversaw the Families Information Service for North Tyneside Council again using data to ensure services meet residents' needs whilst juggling ever diminishing budgets. Finally I worked in Early Help providing early intervention to vulnerable families and those with children with Special Educational Needs to ease the pressure further down the line. Much of my work involved working closely with schools, families and young people which further sparked my desire to have a more front facing job with children.
I have three children, two of whom have left home although they still live locally and my third who is studying for his A levels. Moving onto site and starting my new role was a big upheaval for us as a family last summer and one that we are still settling into. We moved from the coast to the hills and we noticed the magnificent light here but also the dark skies although I still miss the scent of the sea air!
As a family we have been welcomed into the Mowden community and our dog Charlie thinks this is the best place ever to live; he loves nothing more than chasing the squirrels and rabbits in the woodland.
I am passionate about children's mathematical knowledge but also their well-being. Many people find working with numbers stressful and I often hear the phrase, 'I was rubbish at maths at school'. I relish the opportunity to ensure the next generation does not say this to their children but instead, 'I had to work hard at maths at school and enjoyed it along the way'. The best way to get better at maths is to practise, which is no different to perfecting a skill on the rugby or hockey pitch; very few people can successfully do maths without practice. Mistakes are an essential part of this learning journey and being numerate is key to everyday life and prevents adults from being vulnerable. I will always strive to ensure all pupils end their education numerate and hopefully with a passion for numbers like me.
Mrs Abigail Henry, Head of Maths