Staff Spotlight - Meet Mrs Fairclough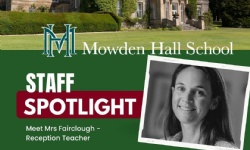 I feel very fortunate that I have had a varied career and some wonderful life experiences so far. Having been brought up in Northumberland, I felt I would always end up here again, but it took over twenty years to make it happen!
After university, I worked for an incredible party design company in London, which had rockstars and royalty on their client books. I worked as the PA to the Executive Head Chef and have never worked so hard in my life - 100 hour weeks were the norm during the summer months, and the parties were an incredible sight to behold. I moved into contract catering to manage the F&B operations at a law firm in the city. The years of working with chefs certainly helped to prepare me for the classroom - chefs are very like small children, hugely creative, headstrong, and a little emotional at times!
My husband's job took us to live in Houston, Texas, soon after we were married. I had two little American children whilst living there, and after 5 years we made another international move to Singapore. Whilst there we had our third daughter. I began to read up on the history of this fascinating city-state, and trained to become a tour guide at the National Museum of Singapore, as well as for the heritage tours of Chinatown. This was a wonderful volunteering job, and I went on to run the training for new docents.
Realising that our time in Singapore would have to come to a close at some point, I got a job as a Learning Support Assistant at Dulwich College Singapore, with a view to doing my PGCE whilst on the job. COVID sped up our departure, and after 7 years there we said a tearful goodbye to our life in Asia and returned to the UK in the Summer of 2021. We landed, unpacked, and I started almost straight away at Newcastle University, on my Primary PGCE course.
When the job came up at Mowden, I jumped at the opportunity. I remember playing Mowden at hockey when I was at school, and my lasting memory was that they always thrashed us, but that we were given an excellent match tea afterward - always look on the bright side.
Mrs Tessa Fairclough - Reception Teacher