Speech Day 2022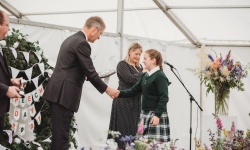 At Speech Day 2022, the Head welcomed parents, governors, pupils, High Sheriff of Northumberland (Col. James Royds) and Mr Beadmore-Gray (CE of Prep Schools Trust) to reflect on the successes and achievements of the last year.
Well done to the prize winners and to all our pupils who have worked so hard and showcased their characteristics of determination, confidence, and resilience, magnificently throughout this year.
Congratulations to Year 8 who will be heading off on their next adventure at Senior School in September. You will all be missed by everyone at Mowden Hall School.
For a Gallery of all the speech day photos visit the link below.