Senior Boys' Rugby Tour to Scotland 2021​​​​​​​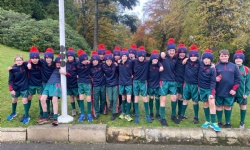 The boys left School in great spirits on Wednesday 3rd November, bedecked in personalised tour tops and woolly hats to protect us from the Scottish weather! They came in very handy as we disembarked the buses at Carter Bar for the obligatory 'Welcome to Scotland' photo! We were delighted to see the sun shining upon our arrival at St Mary's, Melrose and many parents to cheer us on! The match was a fantastic advert for Prep School rugby, with both teams playing with intent to move the ball into space, and defending with remarkable determination. Despite a nervy finish, Mowden won the game 24-19, a wonderful opening to the tour, which set the tone for what was to come!
We set off for our billet in central Edinburgh (with a quick sweet shop stop en route!), in high spirits and enjoyed a good evening together in the hostel playing games. As with any good rugby tour, forfeits were the order of the day, with super sour sweets, dog food flavour jelly beans and, my particular favourite, the Carolina Reaper Chilli sweets providing much hilarity!
Another bright day dawned on Thursday, and we took the opportunity to explore our surroundings, before heading off to do battle - not on the rugby field, but in laser quest! Mr Hartley proved a deadly shot, leading his team to victory! A satisfying repast of pizza, salad, ice cream and (too many) fizzy drinks followed, before we hot-footed it across town to take on Stewart's Melville College 'B' Team. The boys loved playing under floodlights, and took to the Scottish laws brilliantly, creating many opportunities to score. Joshie and William led the scoring, with cameos from Harry and Oscar to put the cherry on the cake! An excellent performance, which led to a comfortable victory
We spent the evening in the cinema, whereupon the excitement of the day overcame a few of the boys - who spent the time having a well earned doze!
On Friday, after packing up and enjoying breakfast, we set off for the summit of Arthur's Seat - a must for any Edinburgh tourist! With breathtaking views at our backs we sung Happy Birthday to Ted, a stunning spot to enjoy his birthday cake! Once every crumb was finished we clambered back down, and headed for some shopping in town.
Our final foray onto the rugby field came at Fettes College (or Hogwarts/Disney Land, as some of the boys decided!) where we played a sevens' festival with our hosts. Some excellent rugby was played and everyone was involved, which made for a pleasing end to the tour.
The boys behaved themselves very well, and should be very proud of their playing record - well done!
For more photos of the tour please see below.