Science Week - Medical Mavericks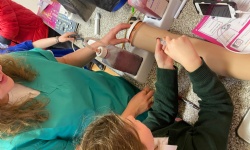 As part of our Science Week, Mowden Hall School and visiting schools from Stamfordham, Shaftoe Primary and Adderlane all enjoyed inspirational and engaging workshops from the Medical Maverick's. One of the two workshops took place in the Gym with a focus of Sports Science. The pupils challenged themselves to jump the farthest and highest they could, tested their reaction speed, their strength and how fast they could throw a ball into a net. Then they faced the exciting accelerator tunnel, where they were competing to gain their furthest speed - with a target of beating Usain Bolt!
The second workshop focused on medical procedures. The children learned about technology such as ultrasound scanning, retinal eye scans, doppler pulse detection, infrared vein scanners and robotic arm surgery. The ultimate challenge was to take blood from a fake arm with a real syringe - a technique learned by doctors and phlebotomists during their training.
It was a thoroughly interesting and exciting experience for all involved, generating a lot of interesting chat over lunch time! We do hope this has encouraged the children to consider a career in science.