Science Week in the Pre-Prep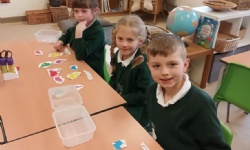 Each year, the British Science Association runs a ten-day celebration of science, technology, engineering and maths(STEM) called British Science Week. People from all over the UK take part in events and activities to develop their skills in these areas.
Miss Woods launched this in the Pre Prep on Monday and we have marked this in the Pre Prep with a daily weird and wacky experiment. We have made raisins dance, watched water walk, erupted volcanoes, explored bubble making and created a mentos geyser.
We were thrilled to experience the children's natural inquisitiveness, full of questions about the world around them and showing a drive to investigate how things work. Here at Mowden, we take advantage of this innate curiosity and channel their enthusiasm for scientific discovery at all opportunities.
Most children are programmed to explore and experiment right from the start, even as babies. On the other hand, research suggests that by the age of 7, most children have developed either a positive or negative attitude towards science education that will remain entrenched. So by tapping into their natural predispositions early on, during this key developmental phase, we can nurture and establish a positive approach to science education that will stay with them into the future.
Science education activities provide children with opportunities to develop and practice many different skills and attributes. These include communication skills, collaborative skills, team working and perseverance, as well as analytical, reasoning and problem-solving skills. We help them expand their vocabulary by using scientific terms that are appropriate for their age group and encourage them to extend and embed their learning through related literacy, numeracy and creative activities, in fact in all areas of the curriculum.
The weather this week has provided us with lots of opportunities to explore natural science, rain, sunshine, ice, snow, and hail! Feels like we have experienced four seasons in one week!