RSPB Big Bird Watch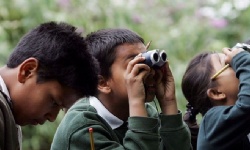 The Mowden children will be learning about the incredible wildlife on their back-door steps and taking part in the RSPB Big Schools' Birdwatch.
This term teachers will be asking children to focus on the natural world outside and help count the birds that call their gardens home.
The Birdwatch – which takes place during the first half of the spring term – is a chance for children and their teachers to discover the nature that lives in their local community. The Birdwatch involves children spending an hour watching and counting the birds that visit their outdoor space, before sending the results to the RSPB.
Year 5 and 6 will be taking part in a competition to raise awareness of the RSPB through sharing poems, pictures and photos. Watch this space!
To find out more about the RSPB please visit https://www.rspb.org.uk/get-involved/activities/birdwatch/