Robots and Rockets Day at Ampleforth College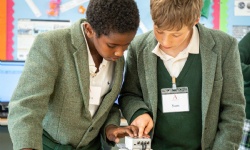 Year 6 has had a wonderful day full of exciting STEM based challenges at Ampleforth College. We began in the morning by designing a rocket that would be powered by water pressure and with a parachute incorporated to help it stay in the air for the longest time possible. To add to the challenge the rocket also has to carry a raw egg and then land without breaking it!
After a buffet lunch and meeting some familiar Mowdenian faces, we carried out two more exciting egg based challenges. The first was to programme a robot to carry an egg 1m and prevent it rolling off the platform by incorporating different speeds. The second was to build the highest tower possible using limited amounts of masking tape and art straws to hold an egg for 15 seconds.
All the children have worked well in different teams and loved the competitive elements throughout the day. It's been a very successful day!
For more photos of the day please see below