Pre-Prep Sports Afternoon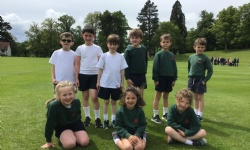 Great team spirit ensured that the Pre-Prep Sports Afternoon on 20th May.
In front of a large crowd of families and friends, the children from Nursery to Year 2 got off to a flying start and saw the children take part in competitive running and relay races. Just for fun the children also took part in various novelty traditional races which included a dressing up race, an obstacle race, an egg and spoon race and a sack race. The resilience and determination of the children in all races were extremely impressive and medals were awarded to the fastest boy and girl runners in each class.
A huge thank you to the staff who made it possible for this day to run and thank you to all family members for attending, your enthusiasm from start to finish was thoroughly appreciated. Please feel free to take a closer look at some of the photos. More photos will be uploaded to this article with updates on social media when it happens, so keep your eyes peeled!