Pre-Prep Nativity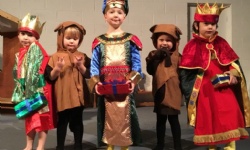 'The nativity was amazing…tears, the lot… it felt as if the pandemic had been put on hold …'. Just one of many positive comments we received after our fabulous productions last week!
It was such a wonderful feeling to have the Mowden family back together again, for such a fabulous afternoon of fun, music, and laughs! The true meaning of Christmas was brought out in both plays with the innocence of childhood that is so precious. The little 'mess ups' are of course always the favourites amongst us all.
For more photos of the Nativity, please click below.
Your continued patience, understanding and support this term has made it such a pleasure to teach your brilliant children.
I would like to take this opportunity to thank all the staff for their hard work this term, we have taken a hit with absences over the weeks, but the provision of education, thoughtfulness and care for the children and each other has been exemplary.
On behalf of all the staff working in the Pre Prep we wish you a very merry Christmas and a healthy and happy 2022.
Kirsten Knight, Head of Pre-Prep