News from the Pre-Prep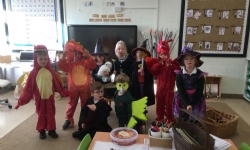 It has been a busy week welcoming the children back after their half term holiday. This week has been an excellent example of the children working hard while also thoroughly enjoying their Pre-Prep experience. From drama activities re-enacting the gunpowder plot, to fabulous detective work from the Year 1 to find Story Tom, (do take time to watch the video of their fabulous assembly), to fishing for eyeballs and making potions in Reception and scavenger hunts and the most artistic firework artwork in Nursery, of course with glitter!
We are very pleased to have already received some photographs of those children who have managed to visit food banks, residential homes and distributed goods to collection points in supermarkets as part of our Harvest celebration. Thank you for your generosity.
One family received this fabulous feedback, 'Trying to educate our children about food poverty and homelessness is a very fine line to tread. We need to do this in a very caring and loving way, not too much information to cause anxiety, just enough to evoke a positive response. This is exactly what this family is doing'.
The latest Government updates will undoubtedly make the weeks to come that bit more challenging. It is a concerning and frustrating time, yet we will continue to do all we can to provide our very best for our children and provide a safe, secure environment for them. I do think we have so much to be grateful and thankful for, even in these strange times.
Kirsten Knight
Nursery
I have had a wonderful week getting to know the children in Nursery! They have all told me about their families. We have had fun making potions in our Witch's Kitchen, and painting fireworks to learn about Bonfire Night. We have loved reading some spooky stories including 'Room on the Broom'. The children and I went on a lovely walk into the woods, and we even found the Three Little Pigs' house! Thank you for making me so welcome. Lucy Pemberton
Year 1 - We all enjoyed our 'Room on the Broom' day this week. The classroom was full of little witches, dragons, cats and wizards! The children had opportunities to write imaginative magic spells and missing cat posters. They played witchy maths games and made story puppets. Most excitedly and by far their favourite activity, they used a variety of ghastly ingredients to make magic potions! Such a lovely day.
Susan Flynn
This week has been filled with exciting, new work for Year 2.
In History we have been learning about the fascinating facts surrounding the Gunpowder plot. In English, inspired by the book 'John Patrick Norman McHennessy', we have made up some impressive excuses for being late for school, and we went microhabitat hunting in Science. The introduction of Tag Rugby was also very popular. Kirsten Knight