Newcastle United Captain Jamaal Lascelles Inspires Year 8 Students with a Powerful Message of Determination and Integrity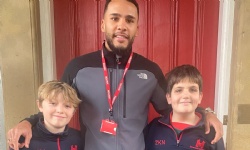 Before half term, Harry and Zaid took it upon themselves to write to Jamaal Lascelles (Newcastle Captain) to invite him to come and talk to Year 8, and he kindly replied to coming in!
On Wednesday we had the pleasure of welcoming the Newcastle United captain Jamaal Lascelles who shared his story with Year 8 students. He talked about working hard, handling pressure, and overcoming setbacks. Through his experiences, he showed how determination and the right team around you are essential for success. The students had the opportunity to ask a range of questions, and took a lot from the experience. We are very grateful to Mr Lascelles for giving up his time to visit us, and for leaving such a lasting impact on the students, encouraging them to approach challenges with determination and integrity.