National Youth Music Theatre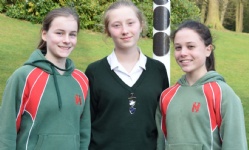 On Saturday, 1st February, three of our Year 8 students auditioned for the National Youth Music Theatre of Great Britain, a leading youth arts organisation.
Kitty Charlton, Isabel Hoy and Gabriella Parker took part in a three hour ensemble workshop led by British Youth Music Theatre Associates alongside other fellow performers who have a passion for the Performing Arts. Whilst there, they showed off their singing, acting and dancing skills with the express aim of securing the chance to work with some of the UK's leading professional directors, writers, producers and designers on future projects.
All three girls have a passion for Drama and are keen to study the subject at their secondary school of choice. Issey Hoy, who recently auditioned for a Drama scholarship at Barnard Castle School said: "The workshop proved a useful experience and made me realise how keen I am to perform on the stage."
Gabriella Parker is yet to audition for a Drama scholarship at Ampleforth College and spoke enthusiastically about the workshop. Whilst there, she was asked to perform a dance based on the sentence, "When the cat's away, the mice come out to play." Taking the word 'cat', she used the medium of dance to create a convincing portrayal of the animal itself.
Kitty also hopes to earn a Drama scholarship, this time at Oundle School, and is busy preparing her solo piece using an extract from Dennis Kelly's hard-hitting play, 'DNA'. As part of the workshop, she was asked to assume the role of a patient at a doctor's surgery, sing a solo and follow a dance routine.
We wish all three girls lots of luck as they await the judges' verdict. If successful, they will be invited to join the British Youth Music Theatre's 2020 Summer Courses in London and beyond, becoming a member thereafter.
Kay Thew