Mowden Equestrian Team News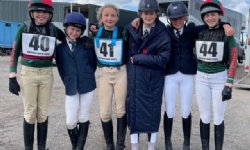 Greenlands – 15.4.23
Hot on the hind legs of ponies being ridden by Bridie & Hugo at the Corbridge Point to Point, we were thrilled to hear we had three teams competing in the NSEA classes at Greenlands Equestrian Centre at the weekend.
Evie, Elsie, Edie & Emma competed in the Arena Eventing 70 and were excited to win a Team 1st on the back of some recent success with individual placings for Emma (1st) & Evie (3rd). In the 80 class Frances, Evie & Edie were Team 2nd with an Individual ticket for Edie (1st). Both teams have qualified to compete at the NSEA Hickstead Eventers Challenge Championships in May.
In the Show Jumping, Martha W continued to build on her partnership with Florence and came 4th in the 60 class. We had a team comprising Martha C, Sophie, Frances and Elsie in the 80 class who came 3rd which was a great result but narrowly missing a team qualification at the NSEA Champs in October. Martha C came 4th on Jack qualifying individually.
Martha C and Sophie competed in the 90 class. Sophie was 7thon Melody but a particular congratulations to Martha who came 1st in both the 90 and 1m class qualifying on Gucci.
It was great end to the Easter holidays with this outing and thanks to Northern Equine and Greenlands EC for a great day out.
We look forward to seeing Sedbergh at our joint competition with them next week and we will hope to have entries in the NSEA classes at Belsay during Half Term
If anyone else at Mowden is keen to compete in these events, please contact Sophie Dodds at School.