Mowden Invitational Cross Country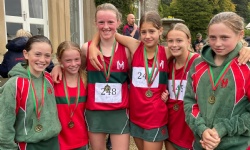 At the end of last week pupils across the school took part in competitive Cross Country running in our wonderful grounds. The sun shone on Friday, as everyone in Years 1, 2 and 3 took part in races against other schools from near and far, with excellent grit and determination on show. It was fantastic to see so many children take part, with over 160 competing in the various races. As always, the delicious goodies provided by our kitchen staff were a highlight of the day!
On Saturday afternoon, it was the Prep school children who took to the course, alongside over 200 pupils from other schools. The races were hotly contested in both the individual and team competitions, with medals spread across the schools taking part — including several for our own pupils. A special well done to our medallists: Isla (3rd Place U9 Girls), Olly (3rd place U11 Boys) and Annie (2nd place U13 Girls). Mowden Hall also won the team competitions in the U9 and U13 Girls' Races.
A memorable afternoon of running for all who took part!
For more photos of the two Cross Country events please click on the links below.