Staff Spotlight - Meet Nurse Laura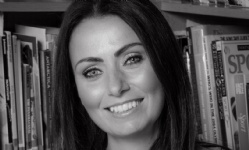 As a parent, the health and safety of your child are one of your biggest concerns and this is something we share. All our staff undertakes regular First Aid training and, we are fortunate to have a dedicated Nurse present throughout the day. Parents can therefore feel reassured that if their child is injured or taken ill, they will receive excellent care.
Meet Nurse Laura
My name is Mrs. Laura Danby (Otherwise known as Nurse Laura!)
I am very happy and proud to introduce myself as the school nurse at Mowden Hall School.

When a 10 year old me was asked "what do you want to be when you grow up?"
My answer was a very firm "I'm going to be a nurse and look after people"
I think my mum has the video evidence somewhere!

I happily remained resolute to that plan and finally reached the age when I could apply for university to begin my nurse training.
Once qualified my nursing career began in a hospice in Newcastle and I still feel incredibly humbled to have been able to care for so many wonderful people and their families at such a vulnerable time in their lives.
Several years later I left to have my two eldest children.

On my return to nursing, I undertook a degree in midwifery studies, allowing me the honour of delivering many beautiful babies and this eventually led me into working in paediatric intensive care at the Royal Victoria Infirmary in Newcastle.

Some years later I added two more children to my brood and in time became a school nurse in Newcastle, I provided care and support to many children from the ages 5-19 and their families, this afforded me five years of invaluable experience which I brought with me to Mowden Hall four and a half years ago.

I feel so lucky to be part of the Mowden family, my years here so far have been truly wonderful and I look forward to many years ahead.
Mowden is such a special place to be, I truly value being part of a team that aims to make the children feel secure, supported, and cared for so that they are able to be happy and confident in themselves and achieve their full potential.

I am passionate about children's health and well-being and I am very happy to help the children and their families at any time, I encourage people to reach out to me if I can be of any support in any way.

For my life outside of work, I am a proud mum to four wonderful children who amaze me every day and our dogs and cats who add to our very busy but happy household.

As a final note, I would like to offer my support to the Mowden Community - whilst we are all still feeling the impact of Coronavirus in different ways, we all have the same goal of overcoming the difficulties and by working together and looking after each other I really believe we'll get there.
Laura Danby, Nurse