Learning through Nature: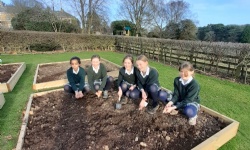 We are fortunate to be surrounded by woods and open parkland at Mowden. Our children use the grounds to their full extent, playing wide games, building dens in the woods, or simply sitting under the trees to relax and read. With nature on our doorstep, we are able to take groups out exploring, using the grounds as an extension to our classrooms.
Taking it a step further is our new Eco Garden. Here we have created a space where children can dig, plant and watch nature playing her part. We have hens to look after, a compost heap to fill, raised veggie beds to cultivate and a brand new orchard filled with apple, pear and plum trees.
The Eco Garden is a haven of peace and quiet, a place where anyone needing a little time to contemplate can go and find time to be close to nature. Research shows that the positive effects of exposure to nature include improved cognitive functioning and concentration. Stress levels are reduced significantly and the opportunities for social interaction are endless.
"We could have never loved the earth so well if we had had no childhood in it."
-George Eliot