JACK AND THE BEANSTALK A Mowden adaptation by Year 7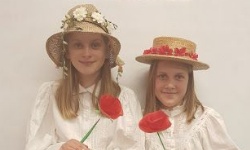 Christmas is fast approaching and that can only mean one thing - it's time for a pantomime - and this year, the children in Year 7 entertained us with the classic fairy tale of 'Jack and the Beanstalk'. This popular story was given a magical Mowden makeover!
​​​​​​​​​​​​​​​​​​​​​
Brutus Bartholomew Bonecruncher, keeper of Cloud Seven, was not in a festive mood and had raised the rent of the Mowdenville residents. With his giant appetite, he was also terribly hungry and had threatened to eat the children of any villagers who wouldn't (or couldn't) pay. Poor Dame Dot was forced to sell the family cow, Clarabelle, but her foolish son Jack returned from the market with a handful of ten measly beans. Meanwhile, Charlotte (Lord Rochester's daughter) was kidnapped by the Giant's designer girlfriend, Fangloria, and taken to Cloud Seven in the sky.
​​​​​​​
Was young Jack able to save the villagers from their impending doom? Only Fairy Felicity and her apprentices, Freya and Flo, knew the answer.
- Mrs Thew, Head of English, Drama and Year 8T