I'm a Mowdenian! Get Me Out of Here!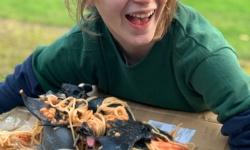 The boarder's activity this weekend was based on the popular ITV show "I'm a Celebrity… Get Me Out of Here!" which recently celebrated its 20th birthday. Sporting their "I'm a Mowdenian" T-shirt's (each with a unique participant number for telephone voting) and Aussie hats, our Mowdenians waited in nervous anticipation to hear about the "Bush tucker trials" or challenges set out for them. Each challenge earned rewards for "camp".
They were all given the names of the trials and had to chose the one they felt most confident about. Inside the envelope was the REAL description of the trial!
Reach for the Stars
You're going to need two people to work as a team for this challenge. We're going to head to the woods and one of you is going to be blindfolded while the other directs them to the eight stars hanging from the trees. Collect all eight and you'll win ice cream desserts! Outside interference will result in penalties.
Leaf Your Fears Behind
This challenge requires you to overcome any claustrophobia or fear of insects as you will be covered in a mountain of leaves...and whatever might be hiding inside of them. Once you're fully submerged, you must lie there for a minute in order to collect enough stars for everyone to have hot chocolate before bed.
Grubs for Grub
In a typical Bush tucker trial, there will be an array of tasty and unusual critters. Each insect treat means one piece of tuck this evening, so let's see if you can force down monsters for Maoams! Each of you is responsible for your own tuck haul so you will all get the opportunity to have a taste.
Detecting Droppings
In this challenge, you are going to take a little poo promenade. Kangaroo droppings and stars will be laid out in a trail for you to follow until you find the kangaroo at the end. You will have three minutes to complete the challenge, including bringing our kangaroo to life at the end (a little hint, you will want to save some breath to save our kangaroo!). Depending on how well you complete this challenge you can win everyone up to 15 extra minutes before bed this evening.
Slippery Serpents
Have you ever wrestled a pack of snakes while being sprayed with an ice cold hose? No? Lucky you - you can tick it off the list now! Hold off the reptiles and the cold for as long as you can, each ten seconds earns you another star. Complete the challenge and earn eight stars and everyone will receive fizzy drinks tonight with supper.
Guts or Glory
This challenge requires nerves of steel as you will be putting your hand into a box full of surprise items trying to fish out the stars. There will be eight stars hidden in this box of horrors, if you manage to retrieve all of them, you can win everyone biscuits before bed.
Vomit or Value
You're going to need a strong stomach to be able to complete this challenge. You will be given a mystery drink and must finish it to collect the star at the bottom. If you manage this tasty task you will have the chance to earn a bit of extra sleep for everyone tomorrow morning!
Flour Facial
In this challenge you're going to need to face plant into a bowl of flour to try and find the four stars lurking within, but beware other surprises hidden inside too! Do this and you will be given the chance to recover some stars or treats you may have missed out on so far.
Believe it or not, the staff even ate crickets, locusts and meal worms! (Some delighted in them more than others!)
A great activity and LOTS of rewards won for "camp"! Well done all!!
Miss Serbrock, Head of Boarding