Head's Update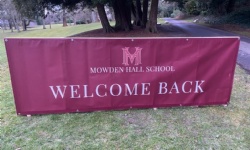 HEAD'S UPDATE Week beginning 1st March 2021
Since January, the vast majority of children have been accessing their education remotely. Covid infection
rates soared, and many of us were understandably concerned as we, once again, looked towards an
uncertain future. This term was not the one we had hoped for, and I particularly feel for the new
members of our community who have not yet stepped a foot through the door. Thankfully, we are now in
a position to fully reopen Mowden on Monday, and we are all looking forward to welcoming everyone
back to school.
We have updated our webpage - please find the link here. We hope this will give you all the relevant
information regarding our plans for reopening, and reassure those of you who may be feeling anxious
about returning to school. Should you have any further concerns or questions, please do not hesitate to
get in touch.
I qualified as a teacher in 1997, and since then I have seen and experienced many changes in education.
I have never, however, experienced anything like the last year. People have said it must be a challenging
time to be a new Head, but the reality is that no Head, no matter how many years of experience they may
have, has any experience of the situation we have found ourselves in, or anything resembling it. In that
regard it has been a truly level playing field. Becoming a Head is definitely a steep learning curve, but
this will always remind me that we never stop learning, and I am grateful to have had such a thorough
induction programme.
As we move on (and hopefully away from the 'new normal'), it is imperative that we as a school take time to
reflect on what we have learned over the past twelve months. We must ask ourselves the questions:
What have we done well?
What could we have done better?
What have we learned?
How will this inform our plans for the future?
You may well have your own thoughts, please do get in touch if you have any feedback you would like to
share.
Teaching is a profession that can sometimes become complacent; it is easy to follow the same timetable,
provide the same lessons, and essentially repeat the cycle of the academic year time and again. The impact
of Covid 19 has forced the teaching profession to do things in a completely different way, and I have been
inspired by the energy and motivation my colleagues have shown as they have constantly adapted to the
demands the pandemic has presented. As I listen to this week's online lessons, it would be understandable
(but not acceptable) to sense a winding down from both staff and pupils, as we work towards the end of
remote teaching. I have sensed no such thing, but have observed only relentless energy from all. Staff,
children and parents are carrying on regardless, making every day count. This is not an easy thing to
achieve and I thank you all for your continued support, patience and resilience.
As a sign off, I am looking forward to seeing our children back in school, playing sports, spending time with
their friends and having fun. One of the special things about a prep school education is that children are
able to hold on to their childhood for longer; this is a wonderful thing, and something I will appreciate
more than ever about our environment at Mowden.
Mrs. Kate Martin, Head