First weekend back!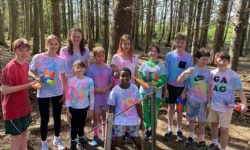 We've had such a busy first weekend back!
We started off with a traditional Mowden BBQ and, feeling very lucky with some sunny weather, we played outdoor games and enjoyed the Spanish themed kebabs from the BBQ.
After this, we came indoors ready to settle for the "Sleep out at school" event which raises awareness of youth homelessness. This admittedly wasn't an overly appealing prospect - giving up our beds for the night and sleeping on hard floors with just a sleeping bag and pillow. However, we all remembered why we were doing it and dug deep and found our inner strength which saw us through the uncomfortable nights' sleep. I'm so very proud of all the children who took part. If you feel just as impressed, please do feel free to donate to the End Youth Homelessness just giving page using this link
A HUGE thank you to those of you who have already donated.
Sunday morning was an early start, but we enjoyed our breakfast and free time before getting back outdoors in the sunshine for "Paint wars". We played Capture the Flag (Paint wars style) in the Woods and then had an all-out water fight on Park Field to "rinse off" some of the vibrant colours!
It's been great to have the children back and to hear the laughter and fun from a busy and eventful weekend.
For more photos of the weekend please visit the link below: