An Extract: End of Term Letter from the Head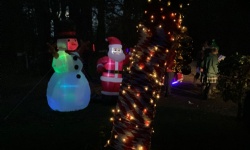 Dear All,
Thank you all so very much for your effort, commitment and support for the Christmas Parade (click here for photos), yesterday. It was absolutely fantastic and I felt quite emotional seeing you all come up the Drive. Having the whole School together was very special; a moment I will never forget. I am also delighted to inform you that this term we have raised £1575 for The Charlie Waller Memorial Trust; thank you so much for your generosity both in buying cakes, biscuits, and tickets and donating prizes for the tombola. As I look back over the course of this term, my first as the Head of Mowden, I cannot deny my overwhelming feeling is one of pride, in our collective achievement as a school. We have all faced huge challenges along the way, initially with our full re-opening, and our children, staff and indeed parents all adjusting to the 'new normal'. The threat of Covid has been ever present throughout the term, but as the weeks have progressed, we have all adapted. Undoubtedly the children deserve huge credit for coping so brilliantly with the changes they have encountered. Sanitising, face coverings and social distancing, all to the most stringent of Government guidelines, are now part of our everyday lives at Mowden. We are however fortunate and grateful to live and work in such a safe and rewarding environment.

Our end of term celebrations have been different, but we have thoroughly enjoyed many activities from a Santa Manhunt to a Christmas Disco. I am delighted to share our end of term Christmas Concert with you all. You will find the link here. I hope you can enjoy this together in the run up to Christmas.

I am often asked what characterizes a Mowdenian. There is no simple answer, but I would like to share the following examples which, for me, typifies the Mowden child. Almost a year ago, several of last year's Year 8 children completed a questionnaire for a very well-known magazine. Two answers stood out - I hope they make you smile:
Question 1: What do you love most about Mowden?
I feel Mowdenians always work together. If there was a zombie apocalypse, Mowden would
survive!
Question 2: What is the food like? Which dish does everyone look forward to? We will be giving an
award to the school with the best food, does yours stand a chance?
Fish and chip Friday is the monarch of all meals!
I think the answer to Question 1 demonstrates our resilience and positivity - who could have known we were only weeks away from a worldwide pandemic; and of course, we have survived. As for the answer to Question 2 - there is no more to be said. Interestingly, I shared these questions with the staff and asked them to guess who had volunteered the comments - it was no surprise to me that it did not take long for the children to be identified. As parents, we understandably fear that our children may slip through the net at school. At Mowden we know our children, and I strongly believe this knowledge is a huge part of ensuring each child in our care succeeds to the very best of their ability. No school can guarantee anything - in life, there
are very few guarantees, but I can promise you that we will always do our very best for your child.

Thank you so very much for all the support you have extended to me in this first term - I have hugely appreciated every kind word, warm smile, and supportive message. I wish you all a peaceful and restorative Christmas break, and look forward to welcoming you all back to Mowden in 2021.
Merry Christmas.
Best wishes,
Kate Martin
Head