Draw with Rob World Record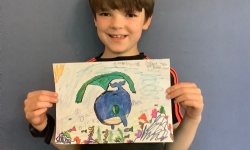 We were there! What a fantastic effort by Rob Biddulph in raising money for those affected by Covid-19.
A huge number of pupils in our school took part in this Draw With Rob initiative at home yesterday. Rob was aiming to break a world record by hosting the world's biggest online art lesson whilst we are all learning at home. Although the record has not yet been officiated, it seemed that we were part of over 40,000 people who were taking part - the record to break was 10,000. We all very much enjoyed drawing the blue whale along with Rob who has written and illustrated many wonderful children's books. We were thrilled to be part of this moment in history. Here are just a few of our whales!