Coronation celebrations at Mowden Hall School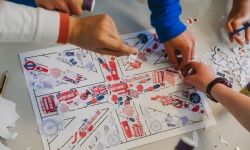 To mark the King's Coronation, we held an all-school event to celebrate this momentous day which was the first Coronation most of us can remember. For our pupils, this is a hard concept to comprehend.
The celebrations started with our Prep pupils supporting our Pre-Prep pupils in a number of activities; a Scavenger Hunt, Balancing the Crown, Tossing the Crown (aka quoits) and Decorating a Crown. Both the Pre-Prep and Prep pupils relished their roles and the hardest role for the staff was replenishing the scavenger hunt!
At this point in proceedings, Pre-Prep pupils went into the hall for their 'indoor picnic lunch'. Instead of saying grace, we sang the National Anthem ably accompanied by Mr Fowlds on the trumpet. Pupils were able to sit in year groups rather than houses and a fabulous party tea was enjoyed by all before heading back to the Pre-Prep building.
Whilst Pre-Prep pupils were eating, the older pupils enjoyed their carousel of activities which were similar with the exception of Monarch Madness in place of the Scavenger Hunt. This was a twist on the Christmas Santa Hunt with the ever willing Mr Shaw Kew and Mr Wainwright dressing up as our King and Queen. After the carousel of activities, we once again sang the National Anthem and enjoyed our picnic lunch served by the fabulous catering team before the start of a much anticipated exeat weekend.
The decision was made to move the event indoors with the exception of Monarch Madness, due to the ever reliable British weather but regardless everyone had a great day. For me the highlight of the day was seeing all the pupils, from across our school, celebrating together what is without a doubt one of the biggest historical events in our lifetimes. In true Mowdenian style, all staff embraced the day and went above and beyond.
Mrs Abigail Henry, Head of Maths