Christmas Activities at Mowden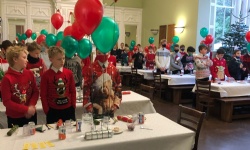 It definitely feels like Christmas at Mowden!
With Christmas party games (in bubbles), Christmas jumpers, and a delicious Christmas lunch, complete with pigs in blankets and parsnips - can only mean one thing! We are in full Christmas mode. We would like to thank our amazing catering team for producing such a wonderful feast. Many thanks to all the Staff at Mowden who have helped sprinkle magic onto a somewhat different type of Christmas this year. For an array of all the magical festivities at Mowden please click here... there is more fun planned for next week too!