Celebrating Sir Captain Tom's 101st Birthday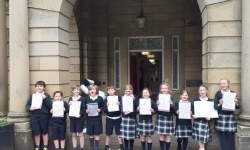 On 6 April 2020, Captain Tom Moore set out round his garden to thank our NHS heroes. One hundred laps later, he'd raised an incredible £38.9 million for the NHS Covid-19 appeal.
His simple message of hope – "Tomorrow will be a good day" – inspired millions around the world and brought comfort and joy to so many during the pandemic.
Now it's our turn to build on that legacy. Friday 30th April would have been his 101st birthday and to honour him and his amazing achievements, we are taking part in the 'Captain Tom 100'.
We have been doing 100 keepy-uppies, telling 100 jokes, Mr. Lamb has completed 100 hill reps and there's more! The children have written some inspiring poems of 100 words.
Should you wish to donate to the Sir Captain Tom Foundation or learn more please visit: https://captaintom.enthuse.com/donate#!/
Sir Captain Tom Moore
WW2
In the trenches where the savers stand,
Where we all hide,
It was dark and black where we sat waiting in complete silence,
ready for the attack.
The only food we had was oatmeal and meat block.
We were starving!
Suddenly destruction set in!
Bombs and grenades, guns and acid covered the field.
Half of everyone rushed out,
In the base where we prepared for war,
The sound of the screaming was like a deafening cat when it's tail is stood on.
We got our weapons ready and the medical room waiting.
The war began!
By Anna
Precious Moments
I lay down on the verdant grass and felt it prickling my skin like tiny thistles. Looking up, there were only a couple of small clouds puncturing the deep blue void that stretched forever and ever. I closed my eyes and sighed; the warm, June sunshine gently stroked my face.
Bliss.
There was a thump on the ground as my friend lay down beside me and for a moment we just lay there, contented, alone in our thoughts. Suddenly, a dark shadow flickered over my face as a flock of birds glided overhead. I sat up, the precious moment broken.
By Grace
The Figure on the Wall
Salty tears streamed down my cheeks, splashing onto the sodden duvet. I couldn't face it, Hugo was gone, and would never come back. I tossed and turned relentlessly. Crows screeched like sirens in the dark, lonely night.
I sat up, flicked my bedside light on and turned the pages of my trusty book. Within minutes, it too became soggy and its words swirled without meaning or form.
An emotional mess, I hurled it like a heavy brick at the far wall in anger. There, the faint figure of a shadow fluctuated in its distinctness, an outline that was painfully familiar.
By Eliza