Broadening Horizons Beyond Borders: The Transformative Power of Residential Stays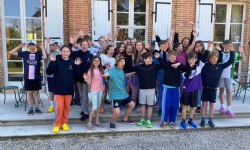 Broadening Horizons Beyond Borders: The Transformative Power of Residential Stays
Residential stays provide invaluable opportunities for children to develop independence, foster cultural awareness, and enhance language skills, ultimately shaping them into well-rounded global citizens, and we are incredibly fortunate to be in a position to offer this to our students in Year 7. In an increasingly busy world, with timetables and demands pulling our children from one activity to the next, imagine an opportunity to focus, in isolation, on being a child. The chance to enjoy being with friends, being outdoors, learning and playing in a safe, nurturing environment where you can discover who you are outside of your regular life's constraints. The Chateau de Sauveterre is that opportunity.
Residential stays empower children to become more independent by stepping out of their comfort zones. For most children this is their first time away from home, so they learn the skills they need to thrive without the comfort blanket of their parents' care. This maturation is essential for children as they prepare for Senior School and the wider world, and the opportunity to learn this confidence at their age sets them apart from their peers. There is an irrefutable sense of adventure surrounding Sauveterre, from travelling up the escalator at Newcastle Airport, away from parents, but with their friends, as this is when the voyage of discovery starts. From this point, in travelling through an airport, following rules, adhering to boundaries, working in groups and problem-solving in a foreign environment figuratively and metaphorically, they develop as individuals at a much higher rate than their chronological age. They foster independence and self-reliance and return with the confidence to apply themselves to further challenges in the future.
In today's interconnected world, the appreciation of diversity and culture is becoming more and more critical if we are to encourage respectful and courteous members of society. The best way for children to understand the differences and similarities between cultures is to experience it first-hand, not through a screen or a textbook. Residential stays allow children to immerse themselves in different cultures and traditions and interact with people from diverse backgrounds to develop empathy and respect. They may feel that their market trips are purely for them to practise their vocabulary and buy a pain au chocolat, but the reality is much more profound for their development.
Language skills are the most obvious benefit of spending six weeks living in France. Immersion is the most effective accelerator for language acquisition and fluency, and pupils have more opportunities to practise and improve their language than they could hope to while at home. Irrespective of starting point, the children can interact in either language every moment of the day. They hear the language of their daily lives in this second language, so their understanding develops subconsciously outside of the confines of the classroom. They are encouraged to interact in French at every opportunity and therefore grow in confidence with the success that they find. While they may not all return fluent, they foster an appreciation for the language which sets them apart from the rest.
Some children take the challenge of Sauveterre in their stride, and others find it immensely more complicated. At school, we discuss the value of perseverance, self-understanding and doing difficult things despite them being difficult, and Sauveterre is the opportunity to put this learning into practice. While they are given the opportunity to make their own decisions and discover who they are, there are still significant pastoral 'safety nets' to enable all children to make valuable progress, whether this looks like your child building the confidence to try a new food they have never seen before, or helping a friend speak to a market seller in a second language. Giving the children these challenges allows them to become leaders who are confident in their ability, and an appreciation that they still have a lot of learning to do.
Anyone who knows me is aware that I am a big proponent of trips in general and the Chateau specifically for all of the points I have covered above. The impact it has on the development of the children at this crucial stage in their education is invaluable, smoothing the process of their final year at Prep School and their Senior School applications. We are creating well-rounded, global citizens by preparing them for the real world where there is not always a parent to fall back on, and it is the first step out of the shadows, and into the young adults they will become.
I am eternally grateful to every parent who supports and encourages their child in taking on the challenge of six weeks at the Chateau de Sauveterre. I encourage any family who is hesitant about the benefits, to speak to some of the children who have returned from the experience. You will invariably find they speak passionately about their time in France and the wonderful adventure they have had. They may not yet be self-aware enough to understand the personal journeys that they have been on, but I can almost guarantee that in five years, they will look back on it as the most pivotal; and the most enjoyable; time of their school career. The then Education Secretary Ed Balls said concisely, "Learning outside the classroom is not some optional extra… residential and educational school trips and getting out of the classroom should be part and parcel of school life," and I wholeheartedly agree.
Mr Josh Lamb
Head of Languages