Boarders' Weekend - 9th October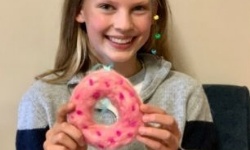 On Saturday night the boarders were involved in a mini tabletennis tournament which had a disco feel to it with disco lights and music. We had an amazing Mexican feast of food in our own Mowden restaurant with siesta salsa music quietly playing in the candlelit background to complete the Saturday dining out feel!
On Sunday we had a wonderfully laid back morning in our pjs with a continental breakfast. After a morning of relaxing, chatting and playing outside in the sun we had a felting workshop where we each learnt how to felt with wool and colour. Some of us made the letter of our initials, some made little animals - we even had a donut and some sushi; all made out of wool. A fun and therapeutic activity to end another busy Mowden week.
The introduction of our new Mowden tuck shop went down a "treat" (see what I did there!) with our boarders. So much choice and variety and all for free!! We do love a movie night to end our weekend and the addition of cinema style pick and mix tuck makes it even better!
Miss Serbrock
For more photos of the weekend, please click below.