Boarders' Weekend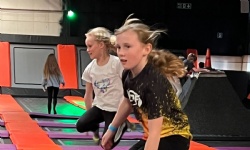 We all had such a busy weekend!
On Saturday night we had a Neon Dodgeball Disco where we played dodgeball lit up with UV lighting and wild dance music. We loved dressing up and getting our UV / glow in the dark makeup on too!
On Sunday, after an amazing continental breakfast, we played Bongo Bingo where we were allowed to jump up on the tables and dance for prizes when the music started. When the music wasn't playing it was "eyes down" to win the Bingo games!
After Bongo Bingo we went to Airbox Bounce which is a trampoline park. It was such good fun bouncing and jumping into foam pits - we also had to try and knock each other off a beam with big inflatables!
On Sunday night we got to chill out with a movie and treats.
Miss Leonie Serbrock, Head of Boarding