Boarders' Weekend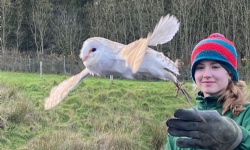 This weekend our Year 3 and 4 pupils were invited to board for a Disney fancy dress party and a visit to Kielder Birds of Prey Centre
On Saturday night the dining room was transformed into a Disney party zone. Mickey was there waiting for photographs with the children and the children didn't disappoint him with their amazing costumes and face paints. We had Princesses, Pirates, Darth Vader, Thamos, Prince Charming and Pinocchio among just a few. The staff also transformed themselves into Pirates, Winnie the Pooh, The 7 Dwarfs, The White Rabbit, The Mad Hatter, The Queen of Hearts, Cruella and Whizzer. The dance-off and sing-a-long were very popular and Disney music echoed throughout the school, even on the way up to bed and in breakfast the next morning we were dancing and singing the classics!
On Sunday we went to Kielder Birds of Prey Centre where the children saw 'feeding time'. This involved the children each getting to wear the special gauntlet glove, calling for the bird and holding them on their arm. The birds also fed from some of the children's heads!
After feeding time, the children were able to sit with the Centre's expert Ray, who answered all their intriguing questions. They also each then got to stroke a baby barn owl and some of the children were selected to hand feed the bigger birds under Ray's careful supervision. It was a really fantastic afternoon!