Art Trip to V&A in Dundee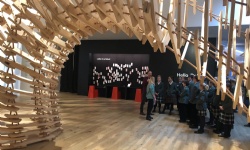 Year 8 travelled to the V&A Museum in Dundee last Tuesday to visit the fantastic Hello Robot exhibition. Our early start was made much easier with a hot chocolate croissant for the journey and then stopping on our way North for hot chocolate! We arrived in a very chilly Dundee to see the beautiful V&A building overlook the River Tay and next to the ship, Explorer.
The Hello Robot exhibition was fascinating. We looked at robots from when they were first invented, how they have changed over time and how they are changing our lives making us think of the positives and negatives. After a delicious lunch, we then took part in a brilliant workshop on video games where in groups we had to design our own video games - the characters, environment, how to play the game etc. We used both the Robot Exhibition and the Design Exhibition to gain ideas and then presented our invented games to each other.
On the way home we stopped at Pizza Express for a scrummy hot supper which was great fun and after just a little while longer, fell into bed thinking of the wonderful and inspiring day we had experienced.
For more photos see below.