Ampleforth Science Day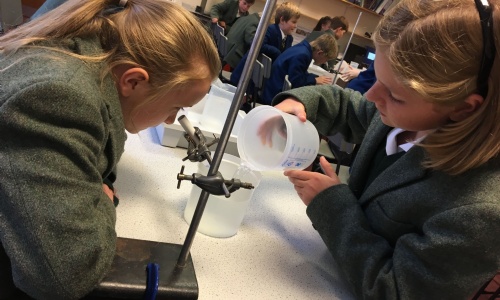 Ampleforth Science Day - Year 7
On a rather damp and grey Tuesday morning Year 7 Mowden children set off with curiosity and eager anticipation for an exciting day in the Science laboratories at Ampleforth College. We split into three groups and joined a few other Prep and Primary schools then we were escorted to experience Secondary school style practical lessons in specialist labs.
The children were able to experience some optical illusions and tricks using the refraction of light. They also learned about fibre optic cables and how broadband can send extremely fast messages around corners using light. We also investigated static electricity, which was indeed 'hair raising' at least for the teacher, using the Van der Graaf generator!
In Chemistry, we observed a multitude of colour changing reactions, some which took a certain amount of time to react depending on the concentration of the substances. We observed how concentrated acid reacts with sugar to produce a huge column of pure carbon. This was topped off with a most satisfying explosion at the end!
Biology was a fascinating study into DNA and how forensic scientists can compare our DNA to solve crimes. The children used micro pipettes with confidence to run gel electrophoresis of a sample of DNA! A different Biology lesson looked at freshwater invertebrates which the children sampled and identified. They discovered that some species are bio indicators of how clean or polluted the sample of water is.
The day went by very quickly and was thoroughly enjoyed by all. We learned so much and look forward to going again next year!