A Day of Classical Exploration for Year 7 at Fettes College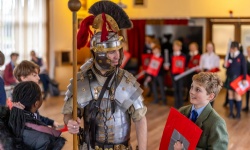 A Day of Classical Exploration for Year 7 at Fettes College
On Thursday, the 16th of November, our Year 7 students embarked on an engaging journey into the world of Classics during a special day hosted at Fettes College. The day was filled with a diverse range of activities, culminating in a delightful Roman feast for lunch.
The students began their adventure by joining the drama department, where they delved into the captivating art of the Greek chorus. This immersive experience allowed them to explore the intricate relationship between group movement and recitation, adding a dynamic element to their understanding of classical arts. Next, the art department beckoned, inviting the students to contribute to the creation of an elaborate mosaic floor design. Using card in place of traditional tiles, the collaborative effort resulted in an impressive depiction of the mythical gorgon Medusa, showcasing both creativity and teamwork. Within the hallowed halls of the Classics department, the students had the unique opportunity to examine 2000-year-old Roman vases, excavated from a shipwreck off the coast of Marseille. This hands-on encounter with ancient artifacts provided a tangible connection to the rich history of the classical world. Following a fabulous Roman feast, the students were treated to a captivating storytelling session. The storyteller skillfully wove the tale of Perseus' quest for the head of Medusa, leaving the audience enthralled and eager for more. The day concluded with a unique enlistment into the Roman army. Under the stern guidance of a centurion, the pupils underwent training drills, mastering Latin commands and swiftly falling into formation at the command of the vitis, a formidable large vine stick. A spirited yet friendly battle ensued, where only the bravest "tirones" emerged victorious.
On reflection, it was a day filled with enjoyment and enthusiasm. The students left Fettes College with a newfound appreciation for the captivating subject of Classics, having experienced its richness through a variety of hands-on activities and immersive learning opportunities.